Connecting the Dots
Gilad Atzmon, Mark Weber
to Address IHR Meeting, May 6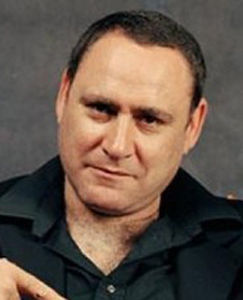 Gilad Atzmon
Gilad Atzmon, who was born in Israel and now lives in Britain, is an author and an acclaimed musician. He is known for pointed and sometimes outspoken writings on Israel's policies and the organized Jewish community.
At the next IHR meeting, May 6, he will describe how a Jewish-Zionist elite has gained immense power and influence in our intellectual, cultural and political life. A great internal struggle for power in Western society, he will explain, has resulted in a breakdown of the "Athenian spirit" and ever greater curbs on healthy, open intellectual and political debate. Atzmon will also look at how and why the prevailing social-political system is failing, and the impact of this breakdown on the continuing turmoil in the Middle East, President Trump's erratic Syria policy, the Palestine issue, and more.
He will expand on points made in his presentation at a special IHR meeting last October, when he spoke along with Kevin Macdonald and Mark Weber.
Copies of Atzmon's new book, Being in Time, will be available for sale, along with copies of his earlier works, The Wandering Who?, and, A to Zion.
A Jewish "cognitive elite," says Atzmon, has succeeded in securing an imposing role in western intellectual and cultural life. This elite has thereby been able to "frame" the limits of "permissible" discussion and debate in our society. Throughout history, Atzmon says, Jews have latched on to groups and campaigns that shape public opinion or drive social-political trends. As he notes, Jews involve themselves even in groups and campaigns that are critical of Israel, often rising to play major roles in them.
Mark Weber will also address the IHR meeting. He will review Donald Trump's tumultuous foreign policy record during the first few months of his administration. In recent weeks the new president has ordered US military attacks against Syrian air bases, has dispatched more US military personnel into that country's civil war, and has threatened war against Iran.
These moves, which are in violation of both US and international law, have dramatically escalated regional and global tensions, and have set the US on a path of confrontation with Russia.
Trump's belligerent actions have predictably earned praise from Israel's prime minister and from Jewish-Zionist leaders in the US. That's understandable, given that the new administration's bellicose actions in the Middle East are entirely in line with Israel's agenda and Zionist ambitions. And that's hardly surprising, given Trump's long record of emphatic support for the Jewish state, and his years of pandering to the Zionist lobby.
Atzmon and Weber will address the next IHR meeting on Saturday evening, May 6, 2017, from 6:30 pm to 9:30 pm. This private event will be at a venue in Orange County, southern California.
For information about attending, phone 714 - 593 9725, or e-mail ihr@ihr.org
There is no admission or cover charge, but donations to cover costs are welcome.
---