More Meetings, New Outreach and an Emergency
We're Being Forced To Move, and We Need Your Help
News from the Institute for Historical Review -- March 29, 2011
We're facing an emergency. Our landlord has told us that he won't renew our lease, which means that we'll have to move out of our offices by the end of June. In recent months he's been targeted by the "Jewish Defense Organization" and other militant Zionist and "anti-fascist" groups, which also publicize his tie to us as a tenant.
We're one of the few dissident groups in the US with an office and space to hold meetings. During the months we've been here, we've made very good use of this by organizing many more meetings than ever before. And that's enabled us to build an unprecedented level of local support.
Several local friends of the IHR have already volunteered to help with the strenuous and time-consuming work of moving furniture, books and equipment, and setting everything up again in a new location.
But we also need money. We'd especially welcome generous backing from a well-to-do supporter that would enable us to make a down payment on an office-warehouse property we would own, thereby shielding us from future landlord problems.
Another Successful Meeting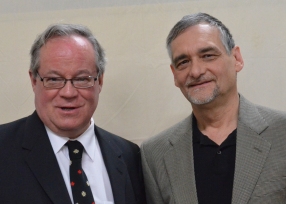 About 40 men and women, including a good showing of younger people and local activists, gathered on Saturday evening, March 12, for one of the most spirited and successful IHR meetings in months. At this upbeat event here in Orange County, southern California, Paul Fromm and I delivered informed, well-received talks about America's social-political decline, and the factors behind this trend.(A full report is posted on our website. )
A businessman who had brought along some younger friends wrote to me afterwards: "We must continue to build a future for the IHR and bring a new generation into the fold. I will continue to do just that. Your speech was fantastic. The three 18-year-olds had never heard anything like it. Your voice is one that they heard clearly, and I appreciate you very much my friend. We are just beginning, Mark!"
In my address, I spoke about how America has changed drastically over the past 60 years, as reflected in the country's high school history textbooks. In the US, as elsewhere, history textbooks both mirror and help to shape the people's outlook and thinking, as well as reflect and strengthen the country's "national narrative" of its past.
America's self-image as a white, European nation was methodically discarded during the "cultural revolution" of the 1960s. Drastically re-written history textbooks were introduced that promoted a new vision of the US as a universalist multicultural, multiracial society.
If the history of the twentieth century teaches anything, I said, it's that ethnic cohesion and unity are characteristic features of stable, orderly and prosperous societies. The often-repeated notion that "diversity is our strength" is a lie. In that regard I noted the orderly and law-abiding behavior of the ethnically cohesive Japanese in the wake of the recent flooding and destruction of their homeland, and I contrasted that with the chaos, looting and pillage in New Orleans in the aftermath of the 2005 Katrina hurricane.
A New Weekly Broadcast

On March 23 the first broadcast of a new weekly show, "The Mark Weber Report," aired on the "Voice of Reason" on-line network. In this new series, which airs every Wednesday evening, I provide analysis and commentary on current affairs and historical issues. The hour-long broadcasts can heard or downloaded as MP3 podcasts on the network's website .
In recent months, I've also been appearing regularly as a guest on weekly broadcasts of the hour-long "America in Focus" show, which is aired on "The Power of Truth Radio." In these broadcasts, I've been providing analysis of current events, including the recent turmoil in the Middle East, along with perspective on relevant historical issues. I also highlight the deceit and ever more obvious failure of America's political leadership, and the hypocrisy of Washington's "Israel first" foreign policy. In two recent, broadcasts, I took aim at the familiar Holocaust story, citing numerous specific examples to show how the documentary and forensic evidence cannot be reconciled with widely-repeated extermination claims.
Among other guest appearance in recent months, I was welcomed by James Edwards for an hour-long segment of the Jan. 22 broadcast of "The Political Cesspool," one of America's most popular and well-produced dissident radio shows. Edwards , a skilled and personable host, warmly welcomed me, repeatedly praised the Institute, and urged listeners to support the IHR.
A Fresh Look at German Wartime Cinema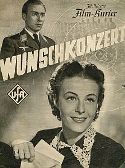 The first-ever IHR "film day" provided a critical and eye-opening look at motion pictures and popular entertainment in Germany during World War II. An exemplary 1940 feature film, "Request Concert" ("Wunschkonzert"), was shown, with English subtitles, along with a subtitled color newsreel from the final months of the war. During this special IHR meeting on Feb. 19 in southern California, knowledgeable background information and commentary was also provided. "Request Concert" was so emotionally engaging that at least one attendee was moved to tears. This film was Third Reich Germany's second greatest box-office success, with nearly 26 million viewers. It was also popular in Sweden, the Netherlands, and other European countries.
Meeting in Las Vegas
At the first-ever IHR meeting in Nevada, I spoke about the importance of the Institute's work during a time of national dissolution and social polarization. This meeting at a hotel in Las Vegas on Saturday, Feb. 26, provided an opportunity to talk face-to-face with supporters whom I hadn't yet met in person, to renew older friendships, and to introduce some new people to the IHR and its work.
In my review of the drastic transformation of American society over the past half-century, I emphasized the steady erosion of national identity and purpose, the rise in social inequality, and the growing "third-worldization" of the US. This process of social disintegration, I stressed, is an inevitable consequence of the prevailing egalitarian-universalist ideology, which is promoted by the mainstream media and US educational system, and embraced by the leaders of both major political parties. (This talk is similar to one I gave at a recent meeting in San Diego, which is posted on our website.)
We're doing everything we can in the struggle for freedom and historical truth. But to keep fighting, and to do more, we need your help, -- especially now to meet the new challenge of moving.
To make a secure on-line donation, click here.
Sincerely,
Mark Weber
Director, Institute for Historical Review