STORMY IHR RALLY AGAINST WIESENTHAL CENTER
DEFIES ZIONIST THUGS
In a "Rally for Justice and Peace" organized by the Institute for Historical Review, some 15-20 men and women demonstrated at the Simon Wiesenthal Center in Los Angeles to focus public attention on what IHR director Mark Weber called the Center's "record of deceit and lies in support of war, Zionist oppression and Jewish supremacism, and to protest the give-away of millions of dollars in public funds to this bastion of Jewish-Zionist power." Participants gathered outside the Center's offices on Friday, July 29, 2005, from noon to one, defying verbal and physical assaults, threats and intimidation by obscenity-shouting Zionist counter-demonstrators.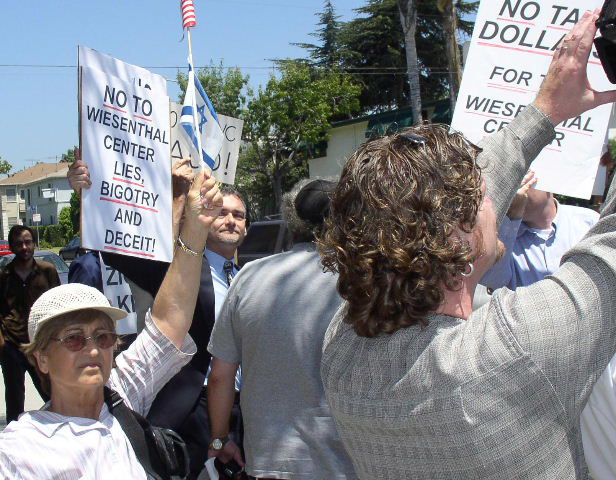 Among reporters, demonstrators and counter demonstrators, IHR director Mark Weber holds a sign denouncing the Wiesenthal Center's "lies, bigotry and deceit."
A dozen or so reporters and photographers were on hand for the event, including print media journalists and camera crews from two Los Angeles television stations. In a series of interviews, Weber explained the purpose of the rally, citing specific examples of lies and misrepresentation by the Center in support of its pro-Israel and Jewish-Zionist agenda.
Participants held placards with slogans that included "No Tax Dollars To The Wiesenthal Center," "Zionism Kills,"  "Wiesenthal Center Promotes War," "No To Wiesenthal Center Lies, Bigotry and Deceit," and "Wiesenthal Center Promotes Zionist Oppression." Two activists, including one in a startling "grim reaper" costume, held signs with photos of Rachel Corrie, an American peace activist who was killed in 2003 when an Israeli soldier bulldozed her as she was protesting the demolition of a physician's family home in occupied Palestine.
IHR supporters handed out flyers headed "No To War, Bigotry and Oppression! No To The Wiesenthal Center!"  (http://www.ihr.org/news/swc.shtml    PDF version: http://www.ihr.org/news/wiesenthal_center.pdf ).
About 20 militant Jews staged a chaotic counter-demonstration organized by the Jewish Defense League, an extremist Zionist group with a long record of criminal violence. JDL leader Shelly Rubin and other Jewish activists, many of them holding placards with the JDL's clenched fist and Star of David symbol, shouted obscenities, slurs and threats against rally participants. To the IHR director, for example, Rubin shouted "We'll get you, Weber." The JDL activists hurled particularly vile racial slurs against African-Americans who were with the IHR rally.
JDL activists boasted that Israel will kill all the Arabs and destroy the Muslim holy city of Mecca, expressed glee over the Israeli killing of Rachel Corrie, and exclaimed that Jesus is rotting in hell for having inspired so many people to kill Jews.
Despite the intense harassment, which included yelling and siren noise from Rubin's amplified bullhorn loudspeaker, the IHR group remained calm.
Police failed to show up in time to prevent the JDL's illegal harassment, in spite of numerous phone calls to the Los Angeles police department. Eventually, though, policemen directed the Jewish militants away from the IHR demonstration.
An IHR demonstration on Feb. 4, 2005, at the Canadian consulate in downtown Los Angeles generated considerable media attention, in part because a JDL counter-demonstration prompted the city to assign dozens of police to prevent violence. For more on that, see: http://www.ihr.org/news/050207report.shtml  Shelley Rubin's late husband, Irv Rubin, was for years the leader of the JDL. He committed suicide in 2002 while awaiting trial on charges of plotting to blow up a mosque, a Muslim center, and the office of a US Congressman.
On July 4, 1984, JDL leader Irv Rubin and three other JDL activists carried out a devastating firebombing of the IHR offices, causing $400,000 in damages. A detailed investigation by the Torrance (Calif.) police department established JDL responsibility for the arson attack, although no one was ever arrested for the crime. For more about the JDL, see "The Zionist Terror Network" http://www.ihr.org/books/ztn/ztn.shtml
The Institute for Historical Review, founded in 1978, works for peace by promoting greater public awareness of the causes, nature and consequences of war. It is a 501(c)(3) not-for-profit educational enterprise. For more, see "A Few Facts about the IHR," posted at http://www.ihr.org/leaflets/fewfacts.shtml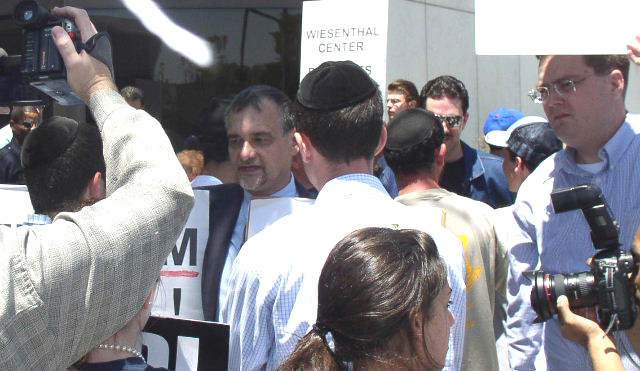 Surrounded by journalists, demonstrators, and Jewish counter demonstrators, Mark Weber answers a reporter's questions. To the right is an IHR supporter, in light shirt and wearing glasses, who had flown in from Arizona to participate in the protest rally.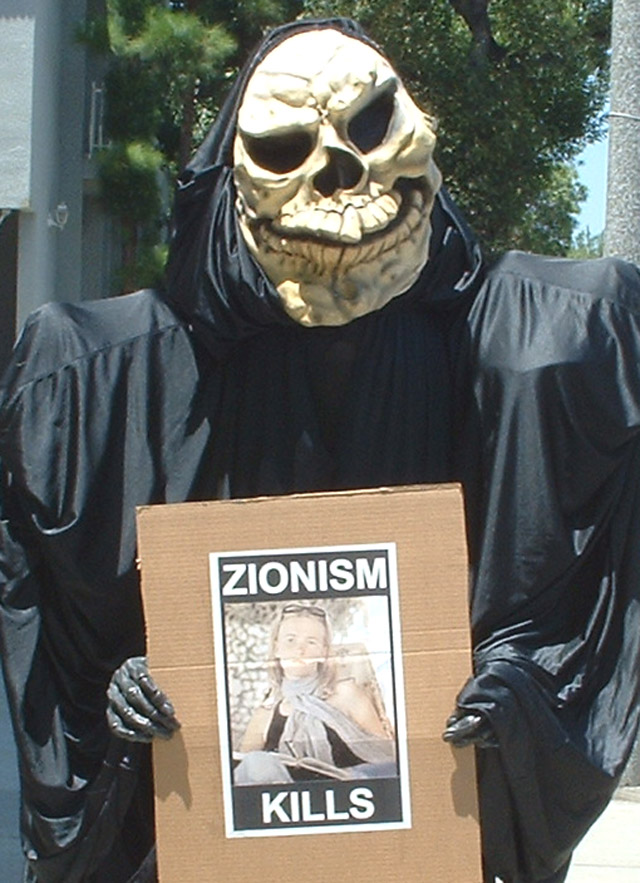 Costumed as the Grim Reaper, a participant in the IHR rally holds a picture of Rachel Corrie, an American peace activist who was killed in 2003 when an Israeli soldier bulldozed her as she was protesting the demolition of a physician's family home in occupied Palestine.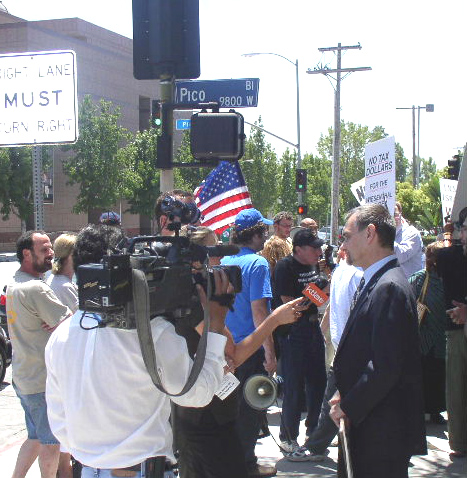 A television reporter interviews IHR director Weber, The large building in the background is the Center's " Museum of Tolerance."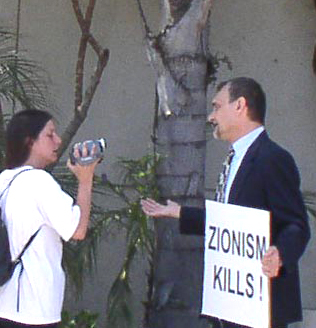 Holding a "Zionism Kills" placard, Weber responds to questions put to him by a reporter, who records his remarks.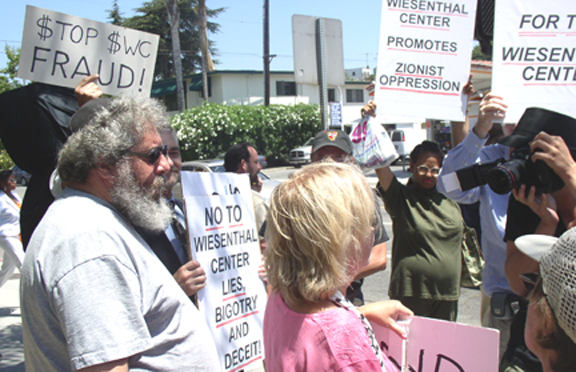 In the middle of the demonstration at the Wiesenthal Center office in Los Angeles, with some Zionists among the IHR activists.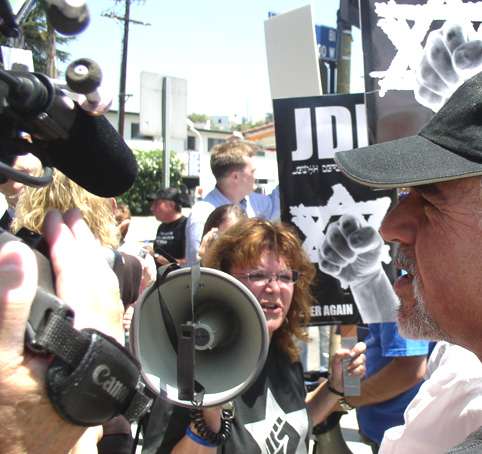 Jewish Defense League activist Shelley Rubin holds a bullhorn loudspeaker in one hand, and a JDL placard in the other.

Rubin shouts abuse through an electric bullhorn at the July 29 rally in front of the Wiesenthal Center office.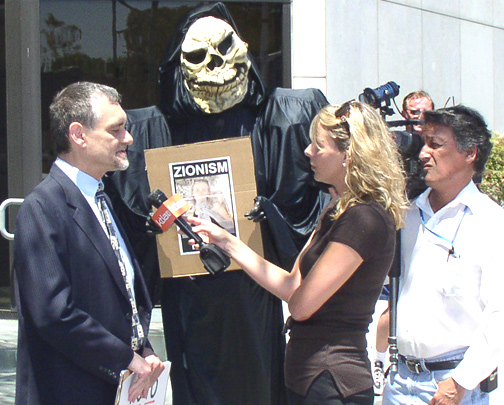 A reporter for KTLA television news conducts an interview with IHR director Weber in front of the Wiesenthal Center office building. In the background, an activist in a "grim reaper" costume holds a poster with a photo of American peace activist Rachel Corrie.