World War II Codebreaking, and an 'Unknown Holocaust'
David Irving and Mark Weber to Address IHR Meeting, July 25
At an IHR meeting in southern California, best-selling British historian David Irving will once again take aim at conventional history mythology, with new revelations and insights based on original archival research.Speaking with his usual verve and eloquence, his topic on this occasion will be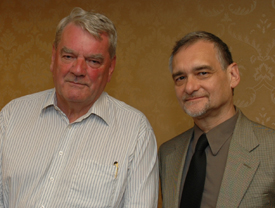 Hitler, Himmler and 'Enigma': Re-Writing World War II History Using Nazi Messages Decoded by the British Secret Service
Irving will also have available copies of his prison memoir, Banged Up, which tells how he was arrested at gunpoint in Austria in November 2005, charged under the country's Stalin-era law prohibiting the Nazi party, convicted in a sensational trial in Vienna for the "crime," committed 16 years earlier, of having expressed dissident views about the wartime treatment of Europe's Jews, and held in prison for 13 months.
Mark Weber, historian and director of the IHR, will also address the meeting. He'll speak on
An 'Unknown Holocaust,' and the Hijacking of History
Weber will tell the little-known story of misery and death imposed by the victors on defeated Germany in the aftermath of World War II. The Allied powers inflicted an 'unknown holocaust' of destruction, looting, starvation, rape, 'ethnic cleansing,' and mass killing. More than 14 million Germans were expelled or forced to flee from eastern and central Europe. Some three million Germans died needlessly -- about two million civilians, mostly women, children and elderly, and one million prisoners of war.
Weber will also explain why the systematic distortion of the past is not just bad history, but why it's also harmful. And he'll also provide an update on the IHR's work.
Join us Saturday evening, July 25, 2009, from 6:30 to 9:30 p.m.
This meeting will be held at a hotel in Orange County, California. For security reasons, the precise location is not being made public. Details are being mailed to select persons in southern California, and are being provided to friends of the IHR or of Mr. Irving.
Admission: $20 per person, at the door, or book on-line with Mr. Irving at http://www.irvingbooks.com/functions
Fresh-brewed coffee will be available, free of charge.
Please dress appropriately. (No T-shirts.)
Join us for a memorable evening. Bring a friend!
INSTITUTE FOR HISTORICAL REVIEW
P.O. Box 2739, Newport Beach, CA 92659, USA
www.ihr.org
Tel. 714-593-9725